Work with an Experienced Motorcycle Accident Attorney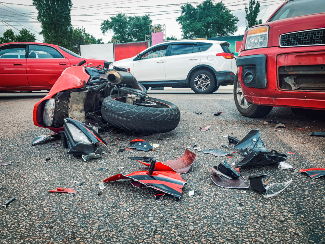 In 2012, the Department of Transportation reported 460 deaths resulting from motorcycle or scooter accidents, down from 488 the previous year. Numbers are still high, which means Texas roads are still as dangerous as ever.
After a motorcycle crash, some riders feel as if they are on the fast track to a dead end. Insurance companies turn the other cheek and hospital bills continue to pile up; it is a reality faced by injured Austin motorcyclists day in and day out. More often than not, insurance adjusters refuse to empathize with victims like yourself, but rather opt for a biased point of view simply because you ride a motorcycle. It is a "well-you-deserved-it" way of thinking. This is an injustice the insurance industry must own up to and it is exactly why Attorney John W. Greenway uses every card in his deck to challenge insurance claim denials and ridiculously low settlements. You deserve more than that.
Your Future is Not a Game of Coin Toss
Take control of the gears and stand up for your rights as a rider to get your life back on track. A serious motorcycle wreck can push you to the limit, fiercely inconveniencing your physical health, personal life, and financial stability. Bodily injuries may result in disability – paralysis, spinal cord injury, traumatic brain injury, severely fractured bones – which can prevent you from earning a decent living and supporting yourself and your family. The effects of a motorcycle accident are tragic when distracted speeding or drunk drivers are not brought to justice and deceptive insurance companies turn their back on you. Make the decision now to fight for what you need to overcome this tragedy.
Let's Get Down to Business and Talk
John takes the time to personally listen to your story and contemplates every small detail. Built on trust and professionalism, his firm is committed to your success the very minute you walk through the door. John will connect you with medical doctors who can treat your motorcycle injuries, and design an intricate and strategic personal injury case against deceptive insurance companies and at-fault drivers to achieve a maximum financial award to cover trouble areas such as:
Hospital and other medical expenses

Pain and suffering

Punitive damages

Lost wages

Property damage
John has his goals set on victory and is the motorcycle accident attorney you need to get the job done right. He has over 26 years of experience in handling personal injury cases with legal excellence and expertise, a testament to his strong drive and dedication to clients in the Austin, Texas area. View his winning settlement awards and decide for yourself.
Your Word Should be Final
Make sure you have the final word and not the insurance company or negligent driver.
Explore Your Legal Options and Get Started With The Greenway Law Firm.
You have nothing to lose and everything to gain right now with an absolutely free consultation with your Austin motorcycle crash lawyer.